For eCommerce recruitment success, it's important to know the current salary situation of those in the industry. Without this knowledge, attracting and retaining staff will not be an easy task.
Following our '2023 eCommerce Salary Survey & Insights Guide' release in March, we revealed the latest digital industry insights. This year, however, we wanted further insights to really paint a bigger picture of the industry.
For the first time ever, we released a follow-up questionnaire in the summer to see what was changing as the year progressed. Shall we see what we discovered? You can also click below to remind yourself of our salary review from March.
The eCommerce salary update
Have there been positive increases since March? Have salaries stalled? Let's find out...
How many eCommerce professionals received a salary increase?

In positive news, over half of our respondents have seen a salary increase since the start of the year. Despite a lot of financial uncertainty, it's great to see this positive uplift. Although 44% have not seen any change, there is still some time remaining this year for a pay rise to happen. Furthermore, be it starting a new role or waiting for a salary review next year, there is much to look forward to with these positive changes. A small number of respondents have seen a decrease. This could be down to business changes or personal choice. For example, someone who decides to work freelance or remotely might see a decrease in their salary when starting this journey.
The average eCommerce industry salary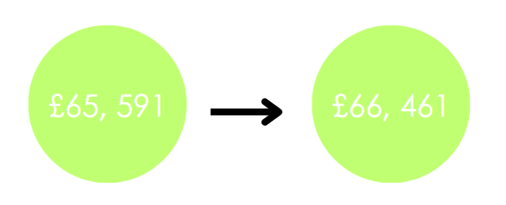 Over the years, we have seen this figure steadily increase. So, it's positive to see this trend continue! With promising growth in the industry, career paths are full of opportunity. Of course, it will be important for industry leaders to recognise this consistently, be it with career progression or regular salary reviews.
Here for your eCommerce recruitment needs