In 2018, a huge focus of our ecommerce salary survey & insights report was the gender pay gap in the ecommerce industry. While we have focused more on work-life balance and happiness this year, we thought it was important to revisit this topic to see what has changed.
Have the number of men and women in the industry evened out? Are more women moving into senior level roles? Are salaries for men and women equal? We will share exclusive findings from our 2019 survey and compare it with last year…let's get started!
The gender make up of the ecommerce industry
The number of men compared to women has not actually changed from 2018 – 51% are male, 48% are female and 1% of respondents preferred not to say. So, it seems that while the balance is still not completely 50/50, the difference remains fairly small.
In our last few survey reports, we have seen that there were more women in the lower age brackets (under 25 years old and 26 – 35) From this, we concluded that it meant more women were entering the ecommerce industry in junior roles. Now that some years have passed, will this now mean there are more women progressing within the industry.
First, let's have a look at the age brackets overall before we break it down by gender…
25 years and under: 8% of our respondents fell into this age bracket, which is a decrease from 13% in 2018.
26 – 35: This age bracket has the majority of respondents within in, with 52%. It was also the most populated age bracket in 2018, with 58% of respondents.
36 – 45: 33% of respondents fall into this age bracket, which is an increase from 24% in 2018.
46 – 65: Seeing another increase from 2018 is the 46 to 65 age bracket. 7% fall within it this year, up from 5% in 2018.
Looking at our respondents overall, we have seen a slight shift in terms of age brackets, though the majority remain within the 26 – 35 age bracket. So, when we take each age bracket, how many of our male and female respondents sit within each one?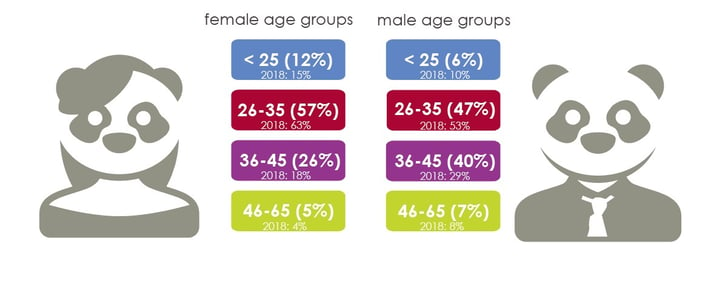 There are quite a few changes from 2018 that are worth noting! There are less males and females in the '25 & under' age group compared to last year, so we see a bigger shift within the upper age brackets.
While most of our female respondents still sit within the '26-35' age group, there has been a significant increase of females in the upper brackets. When looking at our male respondents, there has been a decrease within the '26-35' group, which probably explains the increase within the '36-45' bracket.
Will this reflect in the salary brackets and seniority of our respondents? With more men in the upper age brackets, will men have the higher salaries and more senior positions? We will find out very soon…
Part 2 coming very soon!
We don't want to overload you with all of this #PandaPounds information…so we will be resuming this topic on our next blog post. We will look at gender and seniority, salaries and average salaries for males and females. Be sure not to miss it!
You can also download a full copy of the 2019 ecommerce salary survey & insights report by clicking below!