Here at cranberry towers, our dedication to ecommerce recruitment knows no bounds! Working across multiple ecommerce specialisms not only allows us to help you with all of your team vacancies, but it means you will have a specialist panda on hand.
About our recruitment team structure
So, why are we structured in this way? It's all about offering our clients and candidates an exceptional service. For employers, you will be safe in the knowledge that the specialist consultant working on your vacancy will have a pool of talent to contact. So many of these talented professionals are waiting to hear about your vacancy!
For candidates, the job search can be hard to keep on top of. Having one contact who is on your side, striving to get you the best possible role and package, really is invaluable. There is nothing worse than being passed around a consultancy in your quest for a new role. We certainly won't do that.
Explore our ecommerce family tree
Without further ado, here is our ecommerce recruitment family tree…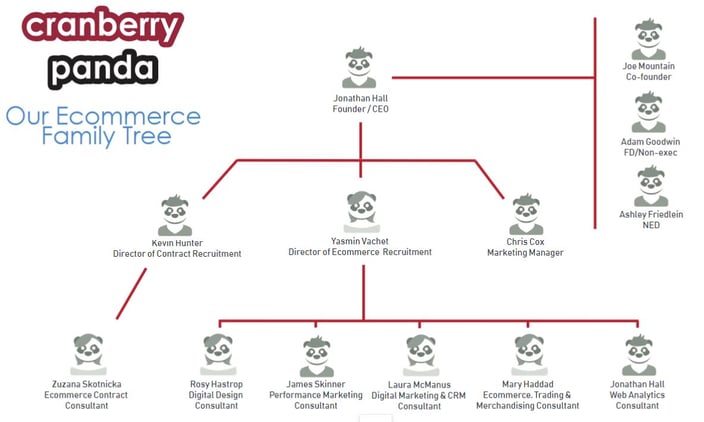 We hope this gives you a better idea of our structure, and who would be the right person for you in your search for a new job or new employee. Don't hesitate to get in touch with your relevant panda contact! Be sure to check back as the team grows...we can't wait to be able to help you with even more ecommerce recruitment journeys!
Want to learn more?
We've recently updated our introduction guide to give everyone a clearer idea of how we work. You can download a copy below...you know you want to!