When it comes to finding a new ecommerce job, how does the work commute factor into your decision? Let's be honest, a bad morning commute doesn't exactly set you up for a positive productive day. Whether it's delays, cancellations, overcrowded trains or angry fellow commuters, it's easy to be affected by your journey.
Even if the commute runs smoothly, longer travel times can begin to take their toll. Ultimately, a commute must be considered an extension, or even part of, the working day. If the commute keeps you from personal plans, it will affect your work-life balance. That's why the team at cranberry panda will always make sure the commuting time is considered.
One of our main questions within our 2019 ecommerce salary survey & insights report is all about the commute. How long does it take? How important is the location when finding a new role? We will of course look at the work-life balance aspect, as this has been a big focus for us in 2019.
How long is the daily ecommerce commute?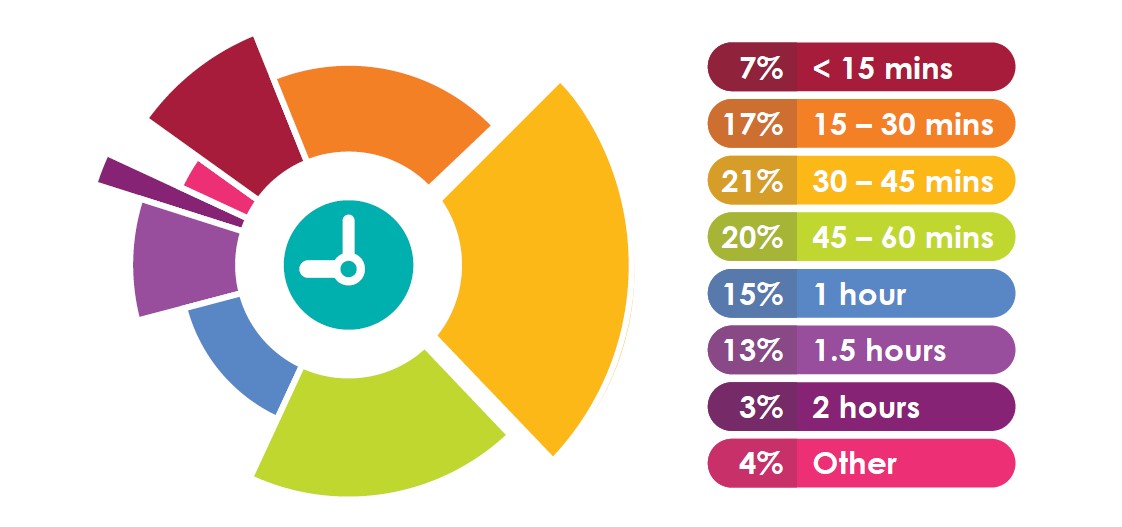 *The results shown are the commute times each way.
The majority of our respondents have a commute that is up to an hour each way. As we can see, 31% commute for an hour or more each way, which hasn't changed from 2018. For those who said 'other', one said it was dependent on the client's location (contractor) while others work from home.
It should be noted that 76% of our respondents work within London – perhaps with so many routes to get to the office, a commute of 30 – 60 minutes is quite a normality.
For the third year running, the underground is the most common mode of transport for our respondents at 46%...not surprising considering the majority work in London. In second place is national rail at 38%, which is a 9% increase from last year. It seems more people are commuting into London as the years go on. (Note: respondents could select more than one mode of transport/select all that apply to them.)
How important is location when finding an ecommerce role?
Every year, we ask our respondents what is essential to them when finding a new role. We cover aspects such as salary, benefits, company culture and, of course, location! While location can also refer to the area surrounding the office, the places to go and the office itself, it's safe to say the length of time it takes to get there is a huge factor.
Here's what our respondents shared with us…
Essential: 29% of our respondents said that location is essential to them when picking a new role. So, even if the role is perfect, a further location would instantly make it a no go.
Important: 57% said that the location is important to them. While something about a new role might make them consider a longer commute, it will have to be something great.
Neutral: 13% can either give or take a longer commute time. However, we should consider that some of our respondents are contractors who are used to many different locations and commute times. Perhaps others consider themselves 'neutral' because they are currently happy in their roles or know they will never consider a role past a certain commute length.
Not important: A tiny 1% said that location is not important to them when looking for a new role. Once again, we had contract respondents and professionals who work from home so it could be that this just isn't an issue for them.
Does a long commute affect work-life balance?
Now for the big question…is striking a perfect work-life balance too hard when the commute is too long and overbearing? We will look at each of the commute lengths we had on our questionnaire and see if the respondents who picked them are happy with their work-life balance.
Less than 15 minutes to 30 minutes: Imagine how nice it would be to walk to work? Well, when it's not raining of course! Whether you can walk in this time, or jump on the bus or tube, it's a nice short journey time. 63% of respondents who do this journey are happy with their work-life balance.
30 minutes to 60 minutes: Surprisingly, slightly more people who do this commute each way are happier than those in group above. 64% are happy with their work-life balance in this group – perhaps having some time to read a book or catch up on a show gives some sought after alone time (Despite the crowds of people!)
1 hour to 2 hours: 58% of respondents with a commute of 1 – 2 hours are happy with their work-life balance. While it's not a dramatic drop, it's still plain to see that as the commute time grows, the happiness falls.
2 hours+: Even if you enjoyed a commute that was 2 hours each way, you can't deny that it eats into home/play time! Only 36% of respondents who do this journey are happy with their work-life balance, so it has been a downwards spiral from those with shorter commutes.
Are you happy with your commute?
Is your commute a breeze or are you desperate to move somewhere closer to home? We hope these insights help you position yourself and your career goals in the ecommerce industry. For more industry insights, you can download the full salary survey report below!