When looking for a new ecommerce job, what is it that draws ecommerce employees in? Is it the salary? The job title? Maybe it's the day to day responsibilities that really catch their eye.
However, there are other factors at play that will attract employees to a new role…and keep them there. In our 2019 ecommerce salary survey & insights report, we asked the questionnaire respondents what is essential to them in a role. Let's find out what they had to say…
What are the top 5 ecommerce employee essentials?
Let's start by looking at the top 5 essentials in an ecommerce role in a bit more detail…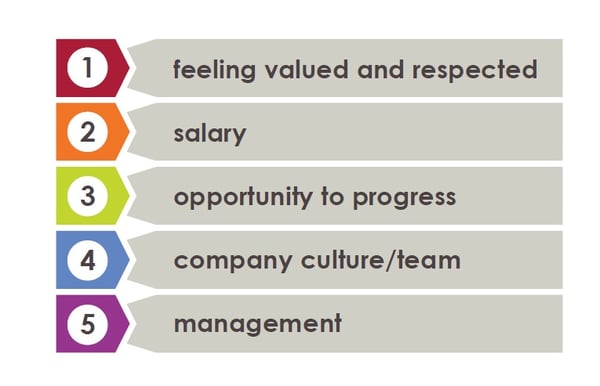 There we have it…feeling valued and respected is the top result for 2019! It should be noted that the top 5 has not changed from 2018, apart from one new entry! Here are a few insights about the top 5 ecommerce employee essentials.
Feeling valued and respected: This role essential holds on to the top spot for the fifth year running. In fact, 97% of our respondents classed this as important or essential to their role and even more so when searching for new roles. Only one respondent said it was unimportant, so ensure that prospective candidates see that hard work is valuable to management and that they will receive the respect the deserve.
Salary: It's not surprising to see this in the top 5, so definitely make sure you download the full copy of our report to explore the latest salary benchmarks.
Opportunity to progress: 92% of our respondents listed career progression as important or essential. That's a pretty big number! It means that it's vital to map out every new role in the business, so that you can demonstrate where they can grow in the role. If there is no visibility on this, do you think candidates would jump at the chance to join the team?
Company culture/team: 90% of our respondents said company culture & team is a key factor in the job search process. Do you get more team members involved when you are interviewing candidates? Or is it only the direct manager and other senior members of the team? It could be worth introducing a stage of the process where different members of the team spend five or ten minutes with the potential employee to talk more about the culture.
Management: This is the only new entry into the top 5 this year. 89% of our respondents told us that great management were an essential or important part of searching for a new role.
What other factors were important to ecommerce professionals?
It's important to acknowledge the other answers outside of the top 5, as these are things people actually consider when searching for a new role. Not only that, they probably take it into account in their current role too…if the essentials aren't there, why would they stay?
Do you know what is essential to your employees?
Whether they are potential or existing in your business, employees will have many preferences when it comes to a role. We hope these insights have given you a deeper look into what makes ecommerce professionals happy! For more insights into the hiring process, download the first of our ecommerce hiring guides on the link below!