When it comes to employee benefits in ecommerce companies, what is leading the way? Are company benefits a key part in retaining top staff and creating a great company culture?
It's time for another #PandaPounds exclusive, and this time it's all about those extra perks being offered by companies. The answers come from the respondents to our 2019 ecommerce salary survey & insights report, so it's key to know what others in the industry are getting on top of their base salary. As an employer or senior management, are you aware of what keeps employees valued and engaged?
It's important to note that, according to our respondents, 45% of them believe staff retention will be a big challenge they face in the next 12 months. We're not saying employee benefits are the only fix for high staff turnover, but surely it helps people feel respected and valued?
What are the top 5 ecommerce company benefits?
To kick us off, let's have a look at the current top 5 ecommerce company benefits received by employees…

The top 5 has not really changed from 2018; the top 4 remains the same, while team outings enter the top 5 and replaces private medical insurance. It's clear then that these have become common company benefits in the industry and are used to both attract and keep top talent. See below for some related articles regarding the benefits above…
Other ecommerce company benefits
Of course, the five above are not the only company benefits being offered to ecommerce professionals. Here's a list of some other company benefits that just missed out on the top 5!
Discretionary bonus
Company performance related bonus
Private medical insurance
Mobile phone
Product/ service discount
Travel benefits
It's important to note that 15% of our respondents don't receive any company benefits at all. In our survey this year, we did have an increase in ecommerce contractors taking part – as some of them work on shorter term contracts, they won't always have access to company incentives.
How important are ecommerce company benefits?
We've seen what company benefits our respondents receive, but do they see them as important? Does it make the company a better place to work? What would ecommerce professionals really prefer to receive?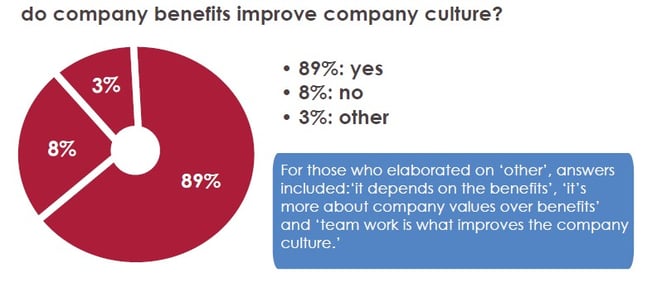 A huge 89% of respondents feel that company benefits do in fact improve company culture. If employees feel like they are respected and getting that extra reward for their hard work, of course it will be an environment they want to stay in.
When it comes to a benefits package, what is important to ecommerce professionals? It's all well and good having incentives in place, but it's important to remember people appreciate different things. Of course, you can't have different benefits for different people, but the overall package of what is on offer is key. Here's what company benefits our respondents would prefer to receive…
58% - A mix of monetary and non-monetary benefits (57% in 2018)
23% - Would prefer a larger salary (25% in 2018)
10% - Monetary benefits only (11% in 2018)
8% - non-monetary benefits that save money (6% in 2018)
1% - Other (work less hours on a Friday, flexi-time, mental health days and membership subsidiaries were just a few of the answers given here.)
Make ecommerce company benefits a priority
We hope this insight is useful when it comes to looking at the employee benefits in your company. Even if you feel it's a great package, it's always important to review it and see how you can keep things fresh! If you enjoyed these ecommerce salary survey insights, you can download a full copy of the report below!