At cranberry panda, ecommerce & digital contract recruitment has been a core service for many years. In 2020 especially, more businesses chose to recruit digital talent on a contract basis. With ongoing uncertainty, these individuals were able to adapt to remote working and get the projects done.
In 2021, we expect this trend to continue. With so many management teams focusing on employee wellness following lockdown, recruiting extra contract support will really help. But, how can you attract this talent when they know the demand for their skills is high? Using our ecommerce & digital recruitment insights from our annual salary survey*, let's see what contract talent had to say in the last year.
*Results recorded February - April 2020
The ideal project length in ecommerce contract recruitment
Ecommerce contract talent will want a project they can really get stuck into. If at any time you are considering extra support from ecommerce contractors, think about how long you will need them for the project. What skills need to be brought in? If it's quite a short contract, how can you attract the best talent to commit to it? So many questions! However, here is a breakdown of the preferred contract length...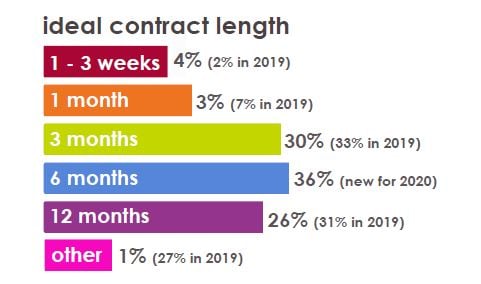 A 6 month contract is the most popular choice – so consider this when you want to bring in contract help. 'Rolling contracts' were also the main choice for those who selected other.
What should the interview process look like for contractors?
When hiring ecommerce contractors, it is often done quickly to secure that much needed support immediately. Everyone in the industry would like a streamlined hiring process...though contract
professionals might expect a quicker turnaround when it comes to securing a new contract. Here's what they would expect from the process...
• phone call only: 13%
• phone call & one meeting: 72%
• two meetings: 13%
• other: 2%
As we can see, contractors would prefer one meeting before making a decision. Keep in mind that while it may be an urgent hire, these professionals still need to feel they too are making the right decision for their career.
Other ecommerce contract recruitment insights
Ecommerce contractors can have a hugely positive impact on your team and goals. However, make sure you can leave a positive impression on them too. The contractor network is close-knit, so giving your contractors a great experience will open your own contract network wide open!
• 65% of ecommerce contractors are happy with their work-life balance. With more control over this, it's important to keep their overall wellbeing a priority - just as you would a permanent member of the team.
• One aspect ecommerce contractors might not always enjoy are company benefits. 62% of contractors in ecommerce do not receive any - how can you make your potential contractors feel part of the team?
• 59% of contractors expect to continue their contract adventures in 2021 - that's certainly a great pool of talent to tap into.
We're here to help your contract recruitment process!
If you're thinking about hiring some interim ecommerce support, we are always speaking to some amazing individuals with great skills to bring to your ecommerce table!