It has been an eventful first half of the year in the world of ecommerce recruitment. The pandas can't quite believe it's July already. We thought it was a good time to share what's new at cranberry towers and look back at some highlights of the year so far.
New panda faces
We love welcoming new pandas into the fold (or embarrassment…yes, that is the collective noun for pandas!) So, allow us to introduce you to Rosy, who has joined the creative team to work on digital design jobs in the ecommerce industry.
Rosy brings a wealth of experience recruiting in the digital space, especially in the design and creative specialism. We're very happy to have her here, creating happiness one job at a time. Here are the latest roles from Rosy.
Portugal pandas on tour
To celebrate a wonderful first half of the year, the pandas ventured to the beautiful Vale de Lobo in Portugal for some fun in the sun. We arrived on a Friday morning and were whisked away to a beautiful villa…with a masseuse waiting to rid us of all those recruitment knots in our backs!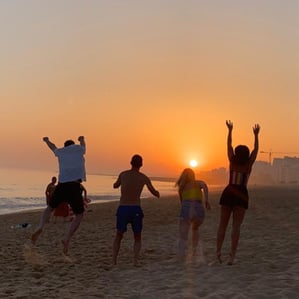 After some chill time by the pool, we ventured to the docks and hopped aboard a boat for a sail around the caves. Followed by a lovely Thai dinner, we then checked out the spots around town. This was all in the first day, so the pandas were suitably knackered at bed time!
The second day was a more chilled affair, with more poolside relaxation, a BBQ and watching the sun go down on the beach. On our final day, we ventured to Armona Island for a final soak in the sun before heading to the airport. What a weekend it was!
#PandaPounds launches
Our annual ecommerce salary survey & insights report is a big event for us and this year was no exception. Following a successful launch party, we continue to share exclusive insights from the industry.
Be sure to keep your eyes on our #PandaPounds blog tag, which will be updated weekly with exclusive insights not seen in the main report.
Ecommerce recruitment success
We wouldn't be cranberry panda without some ecommerce recruitment wins under our belt! Here are some of the amazing placements our consultants have completed over the last few months…
Head of Marketing at a Healthcare products brand
Head of Ecommerce at a long running publication and store
Online Analyst at a stationery retailer
Ecommerce Manager at a furniture retailer
Head of Ecommerce at a high growth footwear retailer
Digital Designer at a British heritage retailer
Senior Digital Marketing Manager at an accessories brand
Web Analytics Manager at a pureplay retailer
Global Digital Marketing Manager at a luxury accessories retailer
Senior Ecommerce Manager at a luxury fashion brand
There are plenty more to list here, but we thought this taster would be enough to show you that both candidates and employers find happiness with the pandas!
Could you join the world of ecommerce recruitment?
With a great mix of hard working and fun loving, the pandas are always on the lookout for new faces to join the team. Could this be you? Click the link below, find out more and get in touch with us!