Welcome back to our focus on ecommerce contract employees in 2019. In our first insight summary, we looked at work-life balance and overtime for contract professionals. Overall, we think the sentiments were pretty positive!
Today, we wanted to do more exploration of what makes ecommerce contractors happy. Are they given company benefits or do they miss out because they're not permanent members of the team? When it comes to choosing their next contract role, what is essential to them?
Using exclusive insights from the 2019 ecommerce salary survey & insights report, it's time to find out!
Company benefits and contract professionals
Depending on the length of the project, some ecommerce contract professionals don't actually expect to receive company benefits. However, we have seen that 64% of contract professionals would want a contract length of three to twelve months.
Should a person have some access to company benefits if they are going to spend a good chunk of time in a business? Here's what our contract respondents told us… (Note: as respondents could select more than one benefit, the percentages do not equal to 100.)
51% of our ecommerce contract respondents do not receive any benefits at all.
25% receive flexible working as a benefit. As contractors have slightly more flexibility in their careers overall, we did expect this to be higher!
22% receive more than 25 days holiday, which is mainly for those doing a full 12-month contract.
17% receive a company laptop/tech to work with during their contract period.
Other benefits include gym subsidy, travel expenses, company bonus and medical insurance. All these options have less than 10% of our contract respondents receiving them.
It's clear that while contract professionals do have access to some benefits, they do not get quite as much as permanent employees. We are not completely surprised, but will it soon become essential for contractors to receive some benefits outside of their salary?
What is essential to contractors when choosing a role?
We asked the respondents of our salary survey questionnaire what is essential to them when searching for a new role, what's important, what they are neutral about and what is unimportant. Below, we have combined the numbers for 'essential' and 'important', as these will play a big part in what roles contractors go for.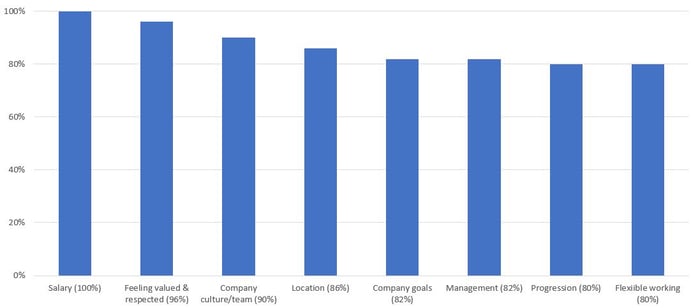 Salary is the unanimous essential factor for contractors when looking for their next role, closely followed by feeling valued and respected. All the essentials displayed above had 80% or more select it as a role essential. Here are a few others that our respondents specified…
Company reputation – 78%
Monetary benefits – 61%
Industry – 60%
Non-monetary benefits – 57%
Bonus potential – 51%
Formal training – 49%
Meet our ecommerce contracts recruitment division
We hope these insights provide you with new information to take into your job search, or the search for a contractor on your team.
Did you know our contracts division can help you with this? Click below to learn more about the team and get in touch with them today!