In the world of ecommerce and digital recruitment, the challenges are not always about hiring. It's a competitive world, with more businesses taking initiative and attracting top talent away from their roles.
In our 2020 ecommerce salary survey & insights report, we collected some key statistics surrounding staff retention in the industry. From company benefits to previous reasons they have left a job, our respondents shared some interesting insights.
Before we proceed, it's worth sharing that the average 'happiness' score, when ranked from 1 to 100, is 65/100. Furthermore, 45% of respondents listed staff retention as a key challenge for their company this year. So, it is definitely a topic on everyone's mind!
For detailed employee happiness insights across our ecommerce specialisms, check out the recent posts below!
Company benefits in ecommerce
Company benefits play a big part in both attracting and retaining ecommerce talent. Today, it's not about pool tables and beanbags - employees look for real value and benefits that contribute to their basic salary. 47% of respondents said company benefits are important, while 38% consider the whole job package (hours, salary and benefits.)
So what are the top company benefits on offer?

Working from home days is a new addition to our questionnaire. Following a year where whole teams have had to work remotely, we're certain this will be a necessary and desired benefit moving forward. Contributory pension remains in the top spot from 2019.
The rest of the top ten includes 25+ days holiday, team outings and travel benefits. It's most surprising to see a holiday allowance of over 25 days fall out of the top five. Will anything less than 25 days leave employees feeling unrewarded?
What is essential to ecommerce employees in a role or company?
Every year, asking our respondents what is essential to them usually yielded similar results year after year. Feeling valued and respected was the number one choice for five years running...until now!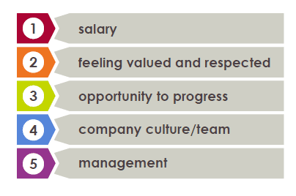 While the top 5 does remain the same, salary has over taken the top spot for the first time in the history of our questionnaire. In our 2020 report, the salary benchmarks show that their have been significant salary changes across multiple job titles. When it comes to salary and performance reviews, keep this in mind - employees will know exactly what's on offer from other roles or companies. Should they feel undervalued, they just might look elsewhere!
It's so important to ask potential employees what is important to them. To ensure complete job happiness, you need to be confident you can provide what is necessary. Knowing these essentials can also help with employee acquisition, as you can speak directly to the needs and preferences of the candidates to get them on board.
Most common reasons for employees leaving an ecommerce job
We must acknowledge that not everyone leaves a job because of feeling undervalued or lack of connection to the culture. There are many personal factors that could come in to play. However, we thought we would share what our respondents said when we asked why they left their previous roles.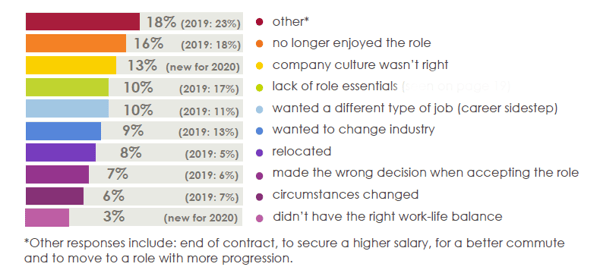 As we can see, there is a very mixed response here and there is no reason that it far ahead of the others in the vote. However, we should note that lack of enjoyment in the role, company culture and lack of essentials are the higher answers here. It shows how simple check-ins with staff goes a long way in successfully retaining employees.
How can we help your ecommerce & digital recruitment process?
Our insights into ecommerce and digital recruitment do not stop here! If you would like to discuss any of the points made in this blog, do get in touch below. You can also reach out if you would like to discuss partnering with us for your next ecommerce hires!