Within the ecommerce industry, what goals do the people working in it have? Every business and ecommerce team will have targets and goals that they will hit collectively, but do people consider the goals of the individual?
In our 2019 ecommerce salary survey & insights report, we asked about individual goals for the first time ever. We think it's important for ecommerce professionals to not only acknowledge their goals but make them known to the world. If they do this, they just might find the support they need to achieve these!
What are the top career goals for ecommerce professionals?
We asked our ecommerce respondents their 2019 goals and here's what they shared…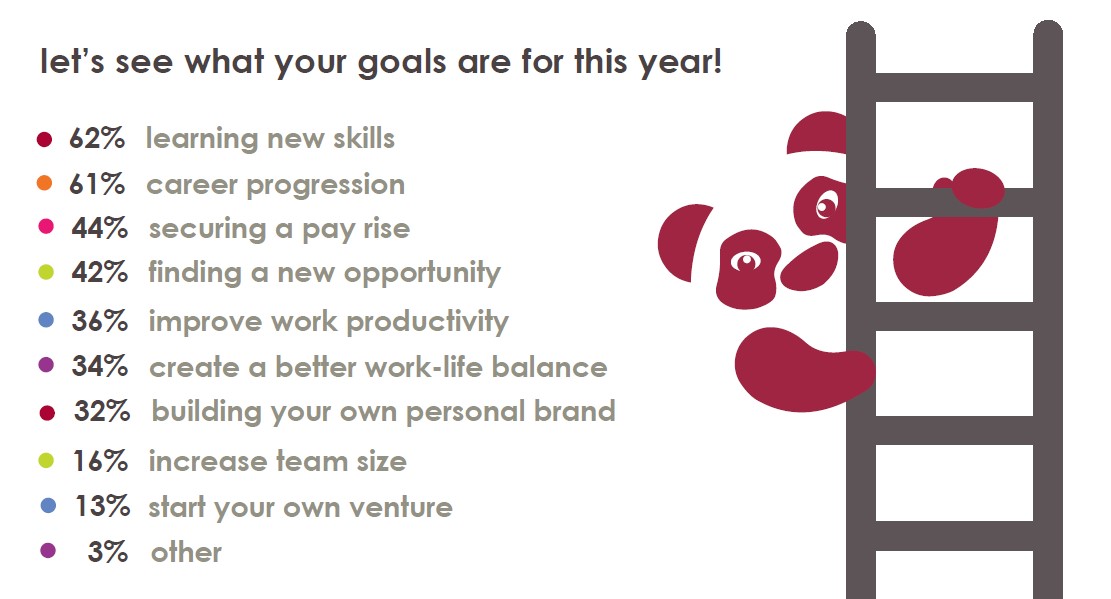 (Note: Respondents were invited to choose more than one option, so totals do not equal 100%)
As we can see, career progression and learning new skills are top of the list for our respondents. They do go hand in hand; learning new skills will allow a person to try new things and grow in their career.
Following on from our review of ecommerce salary changes, it's not surprising to see securing a pay rise as a top goal. Overall, we think these show such a positive outlook – the ecommerce industry is clearly filled to the brim with ambitious and driven professionals who know what they want in their careers. However, sometimes knowing the goals isn't enough…how can ecommerce professionals achieve these goals?
Panda advice – how to achieve your ecommerce career goals
Our ecommerce candidate blog is dedicated to providing the best career advice for people in the industry. It got us thinking…many of the goals listed above are topics we have covered over the years. So, if you're reading this and thinking you have these goals then you're in luck! Here is some advice for these goals…
#PandaPounds exclusive: facts not seen in the report!
When it comes to ecommerce professionals and their individual goals, we couldn't fit everything into the 2019 report. So, we thought we'd share exclusive facts from the questionnaire data!
Ecommerce goals by age bracket
For those in the 25 & under age bracket, learning new skills was top of the pack, closely followed by career progression. At the bottom of the list was increase team size, which does make sense as junior professionals probably aren't managing a team just yet.
In the 26 – 35 age bracket, career progression is at the top of the list, with learning new skills and securing a pay rise in second and third place respectively. Starting a venture is at the bottom of the desired goals, which could show that those at the middle stage of their career still want to grow within the industry to higher levels.
Looking at the 36 – 45 age bracket, career progression and learning skills tie for first place, followed by finding a new opportunity. At the bottom of the list, we find increasing team size once again.
There are slight differences when we look at the 46 – 55 age bracket. At the top of the list is finding a new opportunity, followed by creating a better work life balance. When it comes to work-life balance, this age bracket has the highest number of people looking to improve it. With more seniority, comes more responsibilities and more people to manage so this isn't a huge surprise. It's interesting to note that career progression falls into the bottom three for this age bracket, with starting your own venture pinching the dreaded last place!
What are your ecommerce career goals?
Does seeing what other ecommerce professionals have set as their goals make you think about your own? We hope this post helps you to better position what is important to you! Keep your eye on our #PandaPounds blog page, as there are many more exclusives to come. You can also download a copy of the full 2019 ecommerce salary survey report below!