What do digital design professionals in ecommerce think about the industry and their careers right now? It's day 3 of our ecommerce employee focus and, as the title shows, it's all about our digital design superstars today!
In our digital design in ecommerce salary review, we discovered some positive movement when it comes to salaries for digital designers. Is salary enough? What do our creative crowd feel about work-life balance or overtime? Are there more women in digital design than men? There's only one way to find out…by reading on of course!
Work-life balance for digital designers in ecommerce
In such a busy industry, work-life balance is an important subject. With so many projects, shopping holidays and sales events, digital designers always have something new to sink their teeth into. Is it stopping them from achieving a perfect work-life balance, however?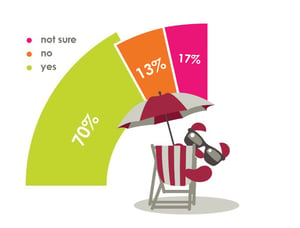 70% of digital design professionals in this ecommerce specialism are happy with their work-life balance, which is a fantastic figure! While it's a slight 4% decrease from 2018, it seems the majority are still managing to strike that balance!
13% are not happy with their work-life balance, which is down from 16% in 2018.
17% are unsure on their sentiments towards work-life balance, which is up from 10% in 2018. It looks like the slight decreases in those who are happy and unhappy are down to slightly more people who aren't quite sure on how they feel. If there were more open conversations about how to achieve this balance, we think this number would decrease while more professionals would find the perfect work-life balance.
Digital design and overtime – how much is being done?
Perhaps more digital designers would be happy with their work-life balance if there was less overtime being done each week. Are digital designers doing more overtime on average than other people in the industry?
None: 23% (28% in 2018)
A few minutes: 20% (21% in 2018)
Half an hour: 9% (11% in 2018)
1 hour: 11% (15% in 2018)
2 – 3 hours: 25% (13% in 2018)
3 – 5 hours: 6% (12% in 2018)
Other: 6% (other answers include '6 hours plus', 'dependent on the week' and 'exceptional times can be more than 10 hours in the week.')
We can see that there has been a big change in those completing 2 to 3 hours of overtime, with slight decreases in those completing up to an hour of overtime most likely being the reason!
Digital design employees – men vs women
Are the number of men and women working within ecommerce digital design more evenly split than other specialisms in the industry? So far, we've seen there is an ever so slight majority of men within ecommerce management and digital marketing.
54% of digital design respondents are female, while 46% are male. Like 2018, this specialism once again is the only one to have more females dominating the field. However, it has evened out compared to last year where 66% of our digital design respondents were female, so will we see this balance out even more in the future?
Discover more insights in the salary survey report!
Whether you're looking for a digital design ecommerce job, or hiring ecommerce talent, we can help you position yourself in the industry with the help of the 2019 ecommerce salary survey & insights report.
Click below to download your free copy of the report and stay tuned for more #PandaPounds goodness.